Alibi Vigilant Flex Series 8-Channel ULTRA H.265 NVR 2TB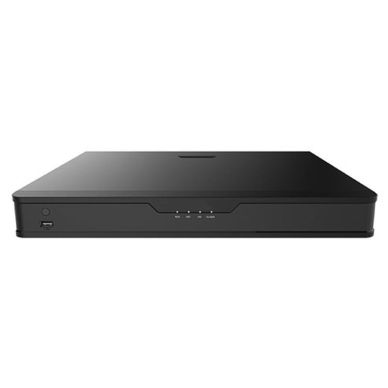 Alibi Vigilant Flex Series 8-Channel ULTRA H.265 NVR 2TB
A professional IP recording solution for small to mid-size business applications featuring plug-and-play support up to 8 IP cameras. Up to 8 IP cameras can be connected. Powered by the Rockchip chipset that meets federal government NDAA compliance requirements. Simultaneous playback capability: 2 x 4k @30 fps, 1 x 12MP @30, 2 x 4K @30, 5 x 4MP @30, 8 x 1080P @30
Overview    
The Alibi Vigilant Flex Series 8-Channel NVR supports up to 8 IP cameras, two hard drive bays up to 10TB, and an incoming bandwidth of 320 Mbps. With a recording resolution of up to 12.0 MP, it delivers ultra-sharp, high-resolution images.
Includes Rockchip chipset which meets federal government NDAA compliance requirements
Ultra compression technology - This NVR supports Ultra H.265, H.265, and H.264 video codecs that help reduce file size, maximize recording time and save hard drive space.
Easy plug-and-play – integrated 8-port PoE switch supports 802.3af/at, reducing the need for additional network switches. This NVR offers plug-and-play auto-connect features for compatible Alibi cameras. Install your cameras where you need them most without the need for a nearby power outlet.
Smart VCA detection - this versatile recorder allows multiple selectable recording modes: intrusion, cross line, defocus and scene change detection, and VCA search. Recording features include event search, event log, and email notification.
Intuitive interface – everything you need to manage your system at your fingertips. With an intuitive interface and access to the free Alibi Vigilant Mobile App and Alibi Vigilant CMS, managing your network has never been simpler. It's loaded with powerful features: drag-and-drop system and camera selection, customizable displays, device grouping, alarms and notifications, and remote system management.
What's included:
1-8-channel input recorder
1- User Documentation
1- Mouse
1- Power Cable
2- HDD SATA Cable
2- HDD Power Cable
8- Screws
2- Phoenix Terminal
**Hard drives not included. We recommend purchasing security-grade hard drives optimized for surveillance functions from us, which we will install at no extra cost. Customer installed components (including hard drives) may damage your DVR and result in non-warranty repair costs. To calculate your storage needs, go to the Tools tab.
Smart Analytics include:
Intrusion detection
Cross line detection
Face detection
Defocus detection
Audio detection
Scene change detection
Auto tracking
Object left behind
Object removed
Face search
Behavior search
People counting
Protection and Warranty:
All Alibi Security purchases are protected by a 30-day money-back guarantee, unlimited US-based technical support, and our 3-Year Blanket Warranty that covers your entire purchase. The warranty covers all camera and recorder hardware and components, and pre-installed hard drives. If you have an issue, we provide unlimited technical support – and manage all returns and exchanges directly, minimizing unnecessary downtime.
Free Ground Shipping for Authorized Dealer Orders
Unlimited US-Based Technical Support
Industry-leading Warranties and Advance Replacement
Specifications
| | |
| --- | --- |
| Audio | Yes (Camera Dependent) |
| Audio Compression | G.711 |
| Audio Streaming | Two-way |
| RS-485 | Yes |
| Sensor Inputs | 8 |
| outputs | (1) RCA audio, (1) VGA, (1) HDMI, (1) USB 2.0, (1) USB 3.0 |
| Alarm Outputs | 2 |
| Inputs | (1) RCA audio |
| Product Color | Black |
| Operating Temperature (F) | 14° ~ 131° |
| Operating Humidity | 0% ~ 90% |
| Hard Drive Bays | 2 |
| Weight (lb) | 5.7 |
| Chassis | 1U Rackmount |
| Certification | CE, FCC Part 15, UL, RoHS, WEEE, EN |
| Dimensions | 15.0" × 12.4"× 2.1" |
| DVD Burner | No |
| Hard Drive Type | SATA |
| Hard Drive Included | No |
| 802.3 | 802.3af and 802.3at |
| Remote Viewable | Yes |
| Remote Configuration | Yes |
| Ethernet Speed | 10M / 100M self-adaptive |
| Ethernet Ports | 8 |
| Ethernet Interface | RJ-45 |
| Power Supply Included | Yes |
| Power (w) | 100~240V AC Power Consumption: ≤ 15W (without HDD) |
| PoE | (802.3af / 802.3at) |
| Recording Resolution | Up to 12 Megapixel |
| Video Analytics Capable | Yes |
| Bit Rate | 320 Mbps incoming, 160 Mbps outgoing |
| Channels | 8 |
| Compression Type | H.265, H.264 |
| Email Notification | Yes |
| Event Log | Yes |
| Event Notification | Yes |
| Max Storage (TB) | Supports up to 20 (2 x 10TB HDD) |
| Active Deterrent | No |
| Brand | Alibi Vigilant |
| Warranty | 3-Year |